Saying Goodbye to "Do Not Disturb" Signs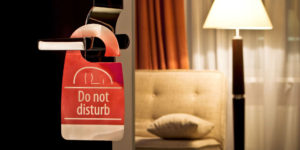 Weary travelers looking to get some solid rest and relaxation love to put the Do Not Disturb sign on their hotel doors before settling in for the night.
But some hotel chains are no longer allowing the signs, in response to security concerns about rooms being unchecked for several days, which can potentially expose a hotel to security risks.
Las Vegas Shooter Stephen Paddock, who killed 58 people, allegedly sneaked thousands of rounds of ammunition and more than 20 firearms, including rifles and handguns, to his hotel room at the Mandalay Bay Resort and Casino by hiding the guns in his luggage. He hung a Do Not Disturb sign on the door, and his room was reportedly unchecked for several days.
Walt Disney World changed their policy last month: a hotel employee is now required to enter every room at least once every 24 hours. Guests will instead get a "room occupied" sign at four Walt Disney World hotels in Orlando – the Polynesian Village Resort, the Grand Floridian Resort & Spa, the Contemporary Resort and the adjoining Bay Lake Tower – have replaced the Do Not Disturb signs with "Room Occupied" signs.
"The hotel and its staff reserve the right to enter your room for any purposes including, but not limited to, performing maintenance and repairs or checking on the safety and security of guests and property," according to Disney's updated guest information pack.
The Orleans Hotel and Casino on the Las Vegas Strip changed its policy on the signs and will now check on guests if they have the signs up for two consecutive days.
Hilton recently joined other companies, and now has a policy where a team member alerts a security or duty manager if a Do Not Disturb sign or light has been in place on a guestroom door for more than 24 consecutive hours.
Housekeeping and other staff will still be allowed to enter the room even if the sign is on the door, but must knock and identify themselves first.
And Wynn Resorts now has employees investigate if a Do Not Disturb sign is in place for at least 12 consecutive hours.
The American Hotel and Lodging Association, which represents the industry, says that most hotels have Do Not Disturb policies in place ranging from 24- to 72-hour time frames in which hotel staff can go into a room.
Spokeswoman Rosanna Maietta says, "One of the lodging industry's top priorities is the safety and security of its guests and employees. Hotels have safety and security procedures in place that are regularly reviewed and updated as are their emergency response procedures. The hotel industry has existing policies, resources and trainings in place for hotel staff to spot and report suspicious activity or behavior, as well as training to care for displaced or injured guests.
"When it comes to Do Not Disturb Policies (DNDs), we understand that most hotels do have DND policies in place, ranging from 24- to 72-hour timeframes in which hotel staff will enter a room. Because hotels own the rooms, they have the right to enter for reasons of security, safety of guests, maintenance or sanitation purposes. Individual hotels make their own determination on their DND timeframe and update policies based on a variety of factors."
Online comments have ranged from "No problem, I have nothing to hide," from complete outrage and calls to ban Disney parks.
The issue is one that balances guest privacy with a duty of care that hotels owe to their customers and employees, but will it improve security? And can a policy be applied in a more general workplace? Can and should security check on an employee if he or she hasn't shown up for work for a few days and was last seen taking a company laptop with them? Overall, where does duty of care begin and end in a workplace, resort, hotel room and other public places?
Article credit to Diane Ritchey Editor-in-Chief of Security magazine.